Led master controller
I、System Features
The system may support 150,000 points in offline. It may meet project needs of clients.
The system supports automatic, regular, preset programs play.
The controller is equipped with keys and External Remote Control; the episode selection, overall brightness adjustment, white balance adjustment and playback speed adjustment etc.
Support offline one key fixed; clearing sub-controller ID number; it is convenient to use on field.
Support switch parallel program; reduce system cascade chain length; improve stability.
Support dual backup; Failure of one controller and net wire broken will not influence operation.
Tricolor independent brightness control may adjust white balance precisely, simple and effectively.
Support four-color lighting: energy saving, environmental and pure color.
Adopt Ethernet interface and UDP network protocol, the maximum transmission distance is 100 meters.
The LCD display module timely display the controller parameters and status.
SD cFL storage, support maximum 32G, preset maximum 255 program files.
Support remote online download and offline program update of multiple offline host controllers.
The built-in animation test program may help customer to debug and apply in project.
Support mixture of different type lamps and different protocols lamps (including DMX512 lamps), strong compatibility.
II. Design concept
The system signal is dual redundant with doubled stability.
Four-color design: energy saving,environmental and pure color.
Synchronous with asynchronous integrated control: online priority; it will be shifted to offline effects when without online signal, achieve the video source backup.
Large self-development and design video editing, playback and layout design software: greater adaptability, more support languages, greater openness. It is applicable for various complicated applications of shaped screen, multi-screen, building screen, pixel light screen etc.
Support mainstream 32, 64-bit operating system: Windows 2000, Windows XP, Windows 7, Windows8,etc
With the arrangement of point light source at 96 * 18 dot matrix display as an example, using FL-CS12B video player, with offline integrated control mode architecture, as shown in Figure 96: wide point, high 18 points, a S type vertical wiring arrangement, each output port control 3 point light source, a total of 32 SPI interface.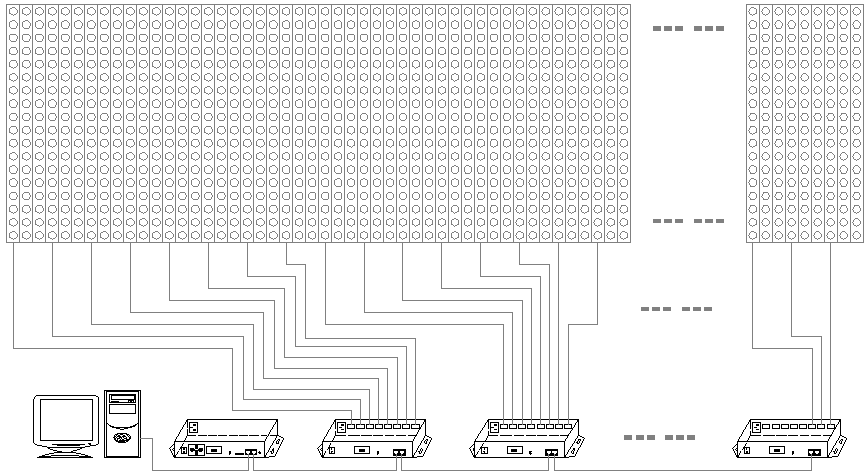 Computer                                FL-CS12B               FL-218A/D-01                FL-218A/D-02                                    FL-218A/D-04