V020 led dmx pixel light is a low power LED string product designed for outdoor landscape lighting. It adopts engineering grade flame-retardant plastic PC shell, which is sealed and waterproof by high thermal conductivity and weather-resistant PU glue; the lamp point is small in size and exquisite in appearance; the light string is connected by the national standard flexible cable, which can be bent and deformed at will, and supports the installation of special-shaped façade; The product spacing and color can be customized; it is suitable for large-area display or lighting of building facades, bridges and skylights.
Measurement (Unit:mm)
1.Three LED lamp lens hole upper cover measurement drawing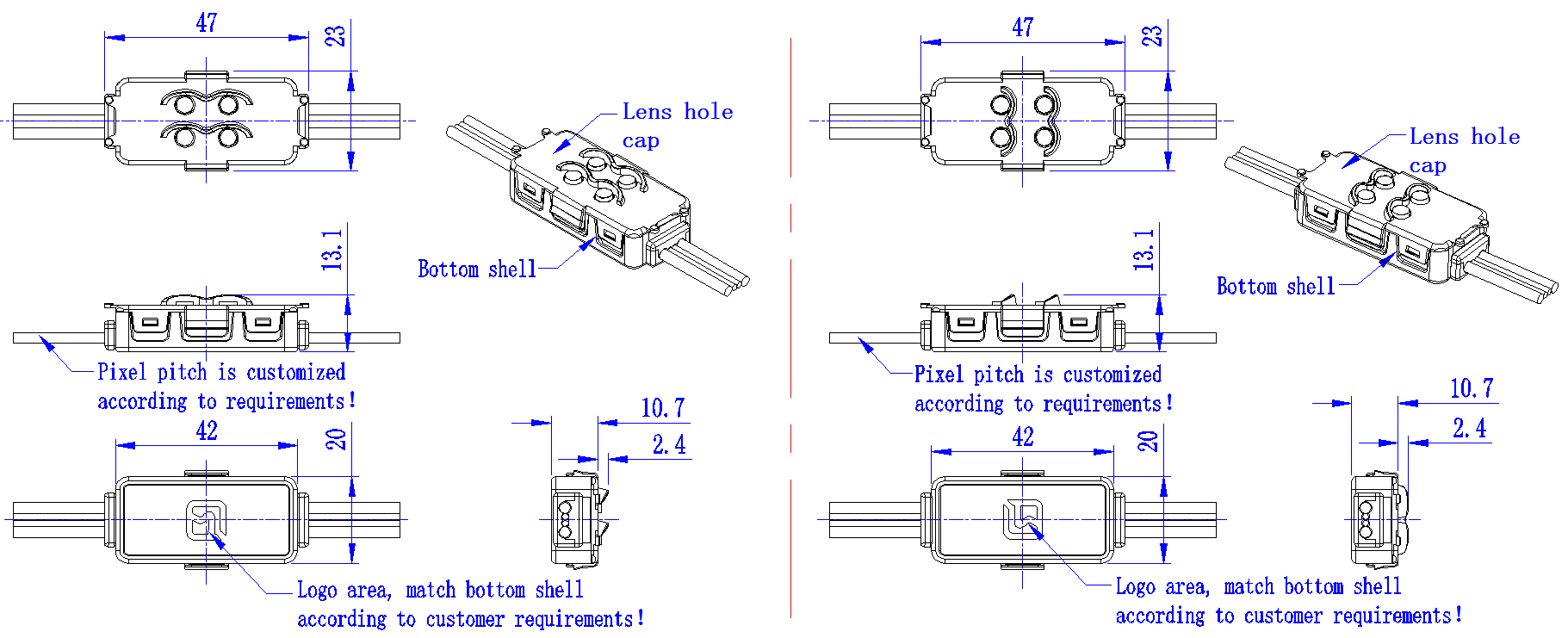 3.3Six LED lamp lens hole upper cover measurement drawing

Technical parameters:
Basic parameters
Color/gray
RGB/W each 4096 grayscale; RGB/W each 65536 grayscale; RGB/W each 256 gray scale
Light source
3535
LED quantities
3pcs /4pcs /6pcs
Material
Flame retardant PC
Cover material
Flame retardant PC
Lifespan
50,000h
Weight
12g
Optical parameters
Operating Voltage
DC12V / 15V / 24v
Maximum power
0.75W / 0.9W / 1.44W
RGB Light

intensity

15cd
White light
30cd
Beam angle
90° / 120°
Electric grade
Class III
Other parameters
Operating temperature
-20°C to 50°C
Storage temperature
-40°C to 70°C
Protection level
IP66
The main controller is equipped with sub-controller and signal adaptor. The main control and sub-control working voltage is AC220V. The working voltage of the signal adaptor is the same as the working voltage of the pixel light.
Each sub-controller has 8 ports. The TTL sub-controller can carry 512 (RGB) pixels per port. The DMX sub-controller can carry 170 (RGB) pixels per port. It is used with the signal adaptor and supports 200 meters long distance transmission.
The main control and sub-control, sub-control and sub-control are connected by CAT5 twisted cables, the maximum distance of each section is less than 120 meters; the maximum transmission distance between the sub-controller and the signal adaptor is less than 120 meters. In this case, the maximum distance from the signal adaptor to the first pixel light is no more than 2 meters.
It is recommended that the maximum point spacing should not exceed 2.5 meters, and each intermediate power supply can support the power supply distance of 6 meters left and right (can be adjusted according to the project conditions).